Re-opening June 1, 2020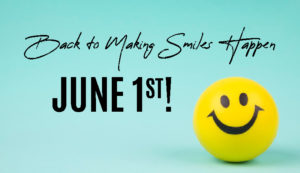 To all of our Patients:
We hope this letter finds you in good health.  Our dental community and office has been through a lot over the last few months, and we are ready to see your smile starting June 1, 2020!  While many things have changed, rest assured one thing remains the same, our commitment to your health and safety while visiting our office.
Magna Dental has always followed infection control recommendations, guidelines and procedures made by the American Dental Association (ADA), U.S. Centers of Disease Control (CDC), Occupational Safety and Health Administration (OSHA), Illinois State Dental Society (ISDS), various dental organizations and groups and our local health department.  We follow these agencies very closely so that we are up to date on any new rulings, mandates, requirements, recommendations or guidance to provide outstanding safe dental care to you.
These are some new changes to protect our patients and staff while COVID-19 is a risk that you might notice:
We will be asking questions and screening you when making your appointment, when we confirm your appointment and when you arrive for your appointment.
You will need to arrive 15 minutes before your scheduled appointment time.
You will stay in your car upon arrival, we will be looking for you and will send a staff member out to greet you since our waiting room is closed for now until further notice.
We will be taking your temperature before you enter the building.
You are required to wear a mask into the building until asked to remove for dental care.  Simply no mask, no entry.
We have hand sanitizer that is required for you to use upon entering the building.
Patients will be seen alone unless a parent or guardian is absolutely necessary (they are required to wear a mask and answer the same questions).
We have additional forms that are required due to COVID-19.
Our staff are dressed differently with layers of personal protective equipment.  You will notice shields, hair bonnets, shoe covers, and now long gowns.  We promise Dr. Keith is under the layers!
We have added in additional to our normal routine of cleaning procedures to include but not limited to steaming of the floors, UV lighting to surfaces, HEPA filtration, etc. along with the newest dental equipment to help lower the amount of aerosols in the air.
You must contact our office if you contract COVID-19 or test positive within 14 days following your appointment.
We reserve the right to decline, refuse, cancel or reschedule your appointment to insure your safety or the safety of our staff.
 Appointments will be managed to allow for social distancing between patients.  That might mean that you're offered fewer options for scheduling your appointment.
We will do our best to reduce waiting time for you, as well as to reduce the number of patients entering or leaving our building or standing in the reception area of our building at any one time.  Please be patient with us through this stressful transition.
We will be contacting all prior cancelled appointments first focusing on what are the scope of services they are needing, and please be assured we will call you back if you are on the list. We want to see your smile!
We look forward to seeing you and happy to answer any questions that you might have.
In dental health,
Dr. Keith Cummins & Staff of Magna Dental 
---
ALL COVID-19 PREVENTATIVE MEASURES WILL BE FOLLOWED JUNE 1-AUGUST 1, 2020.  
A $10.00 COVID-19 FEE IS BEING APPLIED TO ALL APPOINTMENTS IN THIS TIME PERIOD AS WELL.
Download - COVID-19 Treatment Consent
Download - COVID-19 Phone Pre-Screening