Office Temporarily Closed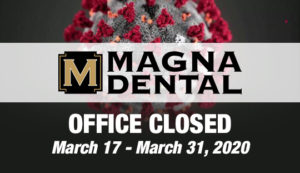 Please be advised that we will be closed from March 17-March 31st in compliance with the recent recommendations of the Centers for Disease Control, American Dental Association and the Illinois State Dental Society.
In the next few days we will be rescheduling appointments. We appreciate your patience and understanding during this time. Your safety and the safety of my staff is the top priority right now.
If you are experiencing a dental emergency and are a patient of record, please call me Dr. Keith at 217-494-7289. For all other questions, please call the office at 217-525-6980 and we will return your call at our earliest convenience.
We will update you on an ongoing basis as information becomes available to us.
In Dental Health-Dr. Keith