August 2020 – Continual Precautions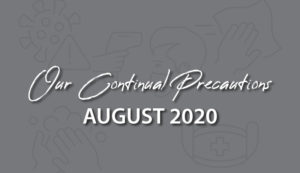 In an effort to continue to help protect the health and safety of our patients and employees at Magna Dental, we will continue our preventative measures that we have put into place since June 1st with a few changes.
We will continue to ask health questions prior to your appointment and the day of your appointment upon arrival.
You are required to wear a mask into the building as well as fill out the appropriate COVID questionnaire paperwork and have your temperature taken.
The waiting room is now open and since we are fortunate enough to have ample space, the seating is and has always been socially distanced.
We continue to ask that you come to your appointment alone to reduce the amount of people entering the building.
Do not come to Magna or stop in without an appointment since we must ask COVID questions in advance

The coffee/tea/snack bar remains closed but we would be happy to serve you coffee, tea or bottled water upon request, with a smile.

 Please return our phone calls to confirm your upcoming appointment or we will not be able to see you at the time of your appointment and will need to cancel and reschedule due to the COVID screening process.
You will notice the staff and our operatories remain draped in layers and coverings throughout the building and the gentle hum of our commercial air purifiers scrubbing and cleaning the air within the building.
We do provide hand-outs explaining how to minimize the risk of spreading or contracting COVID-19.
Please note that Magna Dental continues the right to decline, refuse, cancel, or reschedule your appointment to ensure your safety and the safety of our staff.
We want to say "thank you" for your business and for having faith in our office to provide smiles safely and for being patient with us while we are being compliant.